Audi A7 Rental Los Angeles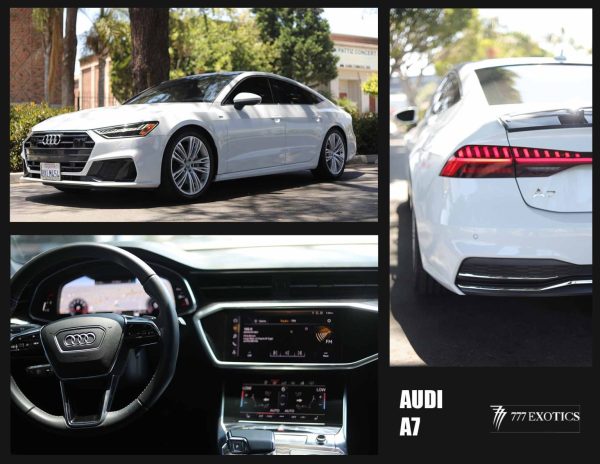 Creative flair and advanced lighting technology come together in the available HD Matrix-design headlights. Audi laser light, first seen in the Audi R8 sports car, utilizes laser technology to help illuminate the road under certain conditions while in high-beam mode.
Audi A7 challenged design norms, so it's only fitting the 2019 Audi A7 challenges them once again. This time, the surfacing is sharper, the muscular definition even more defined. Finding what moves you about the A 7 is easier than finding what doesn't.
Did you know that you can also rent an exotic car in Las Vegas at 777 Exotics Car Rental?
GET OUR BEST PRICE GUARANTEE AND HAVE MORE FUN WITH MORE FREE MILES THAN THE COMPETITION CAN OFFER.
– More Free Miles Included With Your Sports Car Rental – Get The 777 Exotics Best Pricing Guarantee (we have many sports cars, exotics and classic American cars at great rates) – Special Weekend Deals Available – Car Delivery To Hotels, Studios and Homes – We Deliver To Beverly Hills Homes and Area Events – Perfect for Bachelor Party and Grooms Wedding Weekend Ride
SPECIAL CAR RENTAL SERVICES OFFERED:
VIEW MORE SPORTS CAR RENTALS FROM 777 EXOTICS: